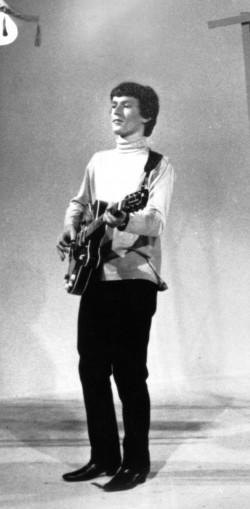 Winwood's Riding High Life Again
Albany Times-Union
June 19, 1991
By Harry Sumrall
There could be a traffic jam at concert venues this summer.
Not the usual traffic snarl. To be exact, a Traffic jam - as in the group of the same name. Or, to be more exact, as in the name of the leader of that wonderful '60s group: Steve Winwood, whose tour comes into the Saratoga Performing Arts Center in Saratoga Springs next Wednesday at 8:15 p.m.
"I'm going through a Traffic phase right now," Winwood says by phone from his home in Nashville. "For a while, I thought that Traffic was eccentric, but when I listen to it now I think it had a great deal of substance. I have recently realized that much of my solo work is a continuation of what I did with Traffic."
To make the point about his new phase, Winwood explains that "on this tour I am going to be doing more playing in my shows. There's going to be less of a big production and performance, and more longer songs with instrumental sections to them. It harkens back to my music in the '70s."
Does that imply that he's going to be - dare we use the word? - jamming?
"That's a fine word by me," he says.
When Winwood is the one who is jamming, that word is a fine one indeed.
But let us digress.
To a generation of rock fans that grew up in the post-'60s era, Traffic - if the name rings any bells at all - was the psychedelic and eccentric group Winwood played in before he became one of the big pop stars of the past decade.
If asked to name Winwood's records, that generation might respond with "Arc of a Diver" (1980), or the Grammy-winning "Back in the High Life" (1987), or the hit single "Roll With It" (1988). Or his latest album, "Refugees of the Heart."
But while those records - and the tours that went with them - have been among his most commercially successful, they barely skim the creative surface of his epochal career.
Winwood emerged in 1965 as the Great White Hope of British soul and rock. At 17, he had a voice that was as big and belting as that of R&B greats who were three times his age. It was one of the astounding voices of the '60s - or any other time. With the Spencer Davis Group, Winwood rampaged the charts with such hits as "Gimme Some Lovin'" and "I'm a Man."
More astounding was the fact that his voice was but one of his talents. He could wield a Hammond B3 organ with the likes of Jimmy Smith of Booker T. Jones. And he could pick a mean blues guitar.
And that is where the Traffic jam came in.
In 1967, Winwood formed Traffic with guitarist Dave Mason, drummer Jim Capaldi and reed virtuoso Chris Wood. And for the next seven years, the group traded musicians and genres with inspired abandon, with Winwood leading the charge. There was the delicate folk of the ancient "John Barleycorn," the funk-jazz of "Glad," the starry psychedelia of "Paper Sun" and the jamming of "Dear Mr. Fantasy," to name only a few of the group's masterpieces.
With those songs, Traffic entered the pantheon of English rock, along with groups like the Who and Cream.
"I am very fond of that period," Winwood says. "We used R&B and rock and folk, sometimes in the same songs. It was a very useful time for me."
In 1969, Winwood took a sabbatical from Traffic to form rock 'n' roll's first supergroup, Blind Faith. Eric Clapton, Ginger Baker and bassist Rick Grech went along with Winwood for the ride on an eponymous album and a subsequent tour that came with dazzling music but also a load of annoying hype and business exploitation.
"I think the Blind Faith album stood up," Winwood notes. "But there were many problems with the business end and the shows. We were very young - at the time I was 21 - and we allowed ourselves to be manipulated by the businessmen. And when we performed, everyone wanted it to be a new Cream show. It all left a bad taste in my mouth."
Traffic reformed in 1970, and, with varying lineups, it jammed its way through to 1974, its instrumental forays varying from remarkable virtuoso displays to boring exhibitions of ego and excess.
"When Traffic broke up in 1974, I was floundering," says Winwood. "I didn't know what to do." As part of what he says was a "learning process," he delved into African music, released his first solo record, "Steve Winwood," in 1977 and recorded with Japanese avant-gardist Stomu Yamashta.
By the end of the '70s, Winwood says, "I had reached a crossroads in my career. Punk and disco were big at the time, and I didn't know where I fitted in. I recorded 'Arc of a Diver' and made up my mind that if it wasn't a success, then maybe it was time for me to start thinking about doing something else."
But it was a success, and Winwood began to pursue a solo career. It was solo in the truest sense: Winwood began to make records in which he sang all the vocals and played all of the instruments, emphasizing the synthesizer.
"Playing all the instruments (on a record) is valid," he says. "It is one person's vision. And while the synthesizer can be an awful instrument, depending on the way it's used, it is also valid. I think as people mature, they want to have more control of what they are doing, and that's what I wanted on those records."
But not now.
On "Refugees of the Heart," Winwood hooked up with old pal Capaldi and a host of other musicians and hit the Hammond again on many of the songs. While the record has the canned feel of much of his recent solo work, the voice and the organ and the R&B sound are there as well.
And Winwood is quick to note that the tour is going to be closer to his old self. "It isn't going to be slick and showy" like his other recent tours, he says. "That isn't exactly what I do best."