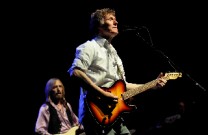 Press Release: Tom Petty Tour, May 7, 2008
Legendary Music Superstar Launching Tour with Tom Petty & the Heartbreakers On May 30
NEW YORK- May 7, 2008
PRNewswire -- Legendary singer-songwriter-multi- instrumentalist Steve Winwood's new album, "Nine Lives," his first for Columbia Records, has just entered the Billboard Top 200 at #12, giving the Rock & Roll Hall of Famer his highest chart debut, and best first week's sales, of the SoundScan era.
News of "Nine Lives" chart success comes on the eve of Winwood's extensive North American summer tour with Tom Petty & the Heartbreakers, launching May 30 at the Van Andel Arena in Grand Rapids, Michigan (please see itinerary following).
Eric Clapton, Winwood's former bandmate in Blind Faith, lends his signature guitar work to "Dirty City," the album's first single, which held the #1 added single spot for three weeks in a row and peaked at the overall #2 spot on AAA Radio.
Released on April 29, the much-anticipated "Nine Lives" is Winwood's first full-length studio album since the artist released "About Time" on his own independent label, Wincraft, in 2003.
Each of the nine tracks on the aptly-titled "Nine Lives" paints a musical portrait of spiritual transformation as Winwood continues the exploration of soul, rock, blues and world music which began in 1957, when, at the age of 9, he played guitar in his father's band in Birmingham, England.
Songs on "Nine Lives" include "I'm Not Drowning," "Fly," "Raging Sea," "Dirty City," "We're All Looking," "Hungry Man," "Secrets," "At Times We Do Forget," and "Other Shore."
"Nine Lives" arrived in the wake of a transcendent live collaboration between Winwood and Clapton at the Chicago Crossroads Guitar Festival in July 2007. The pair's staggering on-stage chemistry in Chicago led to three historic Steve Winwood & Eric Clapton concerts at New York's fabled Madison Square Garden in February 2008. All three of Winwood's MSG shows with Clapton sold-out within minutes.
"Steve Winwood has had a most successful solo career for over a quarter century, beginning in 1981 with 'Arc of A Diver' through 2003's 'About Time.'," wrote Doug Collette in Glide Magazine (April 25, 2008). "Yet no album has so accurately reflected his versatile talents or vividly echoed the pinnacles of his past as 'Nine Lives.'"
Winwood (who turns 60 this year) was perhaps the youngest member of the original British pop music invasion of the mid-1960s. A prodigious guitarist and keyboard player in the Birmingham R&B scene by his mid-teens, Winwood cut his musical chops as a back-up musician for an impressive array of American rock & roll and blues pioneers -- including Muddy Waters, John Lee Hooker, Howlin' Wolf, B.B. King, Chuck Berry, Bo Diddley -- during their UK tours.
In 1962, Steve and his older brother, Muff Winwood, began playing with Spencer Davis and drummer Pete York in The Rhythm & Blues Quartet, an ensemble which would eventually morph into the Spencer Davis Group. An intensely powerful and emotional vocalist and formidable songwriter, Steve Winwood launched an enormously influential "blue-eyed soul" movement with hits like "Keep On Runnin'," "Somebody Help Me," and, especially, the massively successful pop-soul anthem, "Gimme Some Lovin'." Originally released in 1966, "Gimme Some Lovin'" entered the Grammy Hall of Fame in 1996. Winwood left the Spencer Davis Group in 1967 to form the groundbreaking jazz-rock ensemble Traffic.
In 1966, as "Gimme Some Lovin'" transformed the pop landscape, the 18-year-old Steve Winwood entered into his first collaboration with Eric Clapton, recording three songs -- "Steppin' Out," "Crossroads," and "I Want To Know" -- as the Powerhouse (a group which also included future Cream bassist Jack Bruce). Winwood and Clapton would join forces again in 1969 to create Blind Faith, one of pop music's first bona fide supergroups, with drummer Ginger Baker and bassist Rick Grech.
Following the break-up of Traffic in 1974 (they would reform and successfully tour in the 1990s), Steve Winwood launched a successful solo career which reached an apogee in the mid-1980s with the release of four classic albums in a row: "Arc of a Diver" (1981, platinum); "Talking Back To The Night" (1982); "Back In The High Life" (1986, 3x platinum), which featured the #1 smash, "Higher Love," which earned Winwood a trio of Grammys including "Record of the Year"; and the #1 Billboard chart-topping "Roll With It" (1988, 2x platinum).
Through his unparalleled five-plus decades career, Steve Winwood has remained an in-demand session player, contributing his signature sound to an amazing variety of projects for artists including Jimi Hendrix ("Electric Ladyland"), Joe Cocker ("With A Little Help From My Friends"), Leon Russell ("Leon Russell"), Lou Reed ("Berlin"), George Harrison ("Dark Horse," "George Harrison"), Toots & the Maytals ("Reggae Got Soul"), Marianne Faithfull ("Dangerous Acquaintances"), David Gilmour ("About Face"), Tina Turner ("Break Every Rule"), Billy Joel ("The Bridge"), James Brown ("Gravity"), Rosanne Cash ("King's Record Shop"), Jimmy Buffett ("Hot Water"), Phil Collins ("But Seriously"), Etta James ("Right Time"), Paul Weller ("Stanley Road"), and Christina Aguilera ("Back To Basics"), among many others.
The private Steve Winwood is an outdoorsman who loves hiking and walking, and a dedicated family man who spends his Sundays playing the organ and singing in his church choir.
With "Nine Lives," Steve Winwood opens up his world and gives his fans, old and new, nine new reasons to celebrate the life and music of this ageless, and still prodigious, musical treasure.

Steve Winwood Summer Tour 2008 w/Tom Petty & the Heartbreakers

2008-05-08Berklee Performance Center Boston, MA (w/o Petty)
2008-05-19The Scala London, UK (w/o Petty)
2008-05-30Van Andel ArenaGrand Rapids, MI
2008-05-31The Palace of Auburn Hills Auburn Hills, MI
2008-06-03Air Canada Centre Toronto, ON
2008-06-05Wachovia CenterPhiladelphia, PA
2008-06-06Wachovia CenterPhiladelphia, PA
2008-06-08Nissan PavilionBristow, VA
2008-06-10Post-Gazette Pavilion Burgettstown, PA
2008-06-11New England Dodge Music Center Hartford, CT
2008-06-13TD Banknorth GardenBoston, MA
2008-06-14Tweeter Center Mansfield, MA
2008-06-17Madison Square Garden New York, NY
2008-06-18Prudential Center Newark, NJ
2008-06-21Darien Lakes Performing Arts Darien Center, NY
2008-06-22Blossom Music Center Cuyahoga Falls, OH
2008-06-25Hollywood Bowl Los Angeles, CA
2008-07-02United Center Chicago, IL
2008-07-03Verizon Wireless Music Center Noblesville, IN
2008-07-05Marcus AmphitheaterMilwaukee, WI
2008-07-08Riverbend Music Center Cincinnati, OH
2008-07-09Verizon Wireless Amphitheatre Atlanta, GA
2008-07-11Verizon Wireless Amphitheatre Charlotte, NC
2008-07-12Walnut Creek Amphitheatre Raleigh, NC
2008-07-15BankAtlantic CenterFt. Lauderdale, FL
2008-07-16St. Pete Times Forum Tampa, FL
2008-07-19Mile High Music Festival Denver, CO
2008-07-20Quest Center Omaha Omaha, NE
2008-07-22Sprint Center Kansas City, MO
2008-07-23Target Center Minneapolis, MN
2008-07-25Harris ParkLondon (w/o Petty)
2008-07-26Empire Square Live Belleville (w/o Petty)
2008-08-07Verizon Wireless Amphitheatre Maryland Heights, MO
2008-08-09MTS Centre Winnipeg, MB
2008-08-11Pengrowth Saddledome Calgary, AB
2008-08-12Rexall Place Edmonton, AB
2008-08-15The Gorge George, WA
2008-08-16The Gorge George, WA
2008-08-20Jobing.com Arena Glendale, AZ
2008-08-22Verizon Wireless Amphitheatre Irvine, CA
2008-08-23Golden Gate Park San Francisco, CA
2008-08-26Verizon Wireless Amphitheatre Selma, TX
2008-08-27American Airlines Center Dallas, TX
2008-08-29Cynthia Woods Mitchell PavilionWoodlands, TX