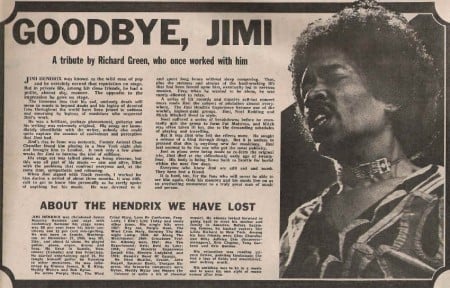 Jimi Hendrix: 1942-1970
Times Wire Services Saturday, September 19th, 1970
LONDON - American acid-rock star Jimi Hendrix, famed for his electric-shock mane of hair and hip-grinding delivery, died here Friday. He was 27.
A spokesman for St. Mary Abbot's Hospital where the guitarist was dead on arrival said: "We do not know where or how or why he died." A coroner's inquest will be held.
According to British blues singer Eric Burdon, a close friend of bachelor Hendrix, the guitarist had spent the night with a girl friend instead of at the Cumberland Hotel, where he was registered.
"She found him in a coma this morning and called for an ambulance," Burdon said. "All I know is that he had taken some sleeping tablets."
Hendrix was named the world's top pop musician in 1967 in a poll of British fans. He was Billboard's "Artist of the Year" in 1968 and Playboy magazine's "Artist of the Year" in 1969. He had been staying in London since September 6th as part of a European tour that included a two-and-a-half-hour appearance last month at England's Isle of Wight festival.
Hendrix was originally in a backing group for Little Richard, the American Negro rock 'n' roll star. He was discovered in a cellar club called Cafe Wha in New York by Charles Chandler, onetime member of the Animals rock group. He came to Britain in 19666.
Hendrix was a star of the 1969 Woodstock festival and film with his rendition of the "Star Spangled Banner." His recording hits in cluded "Are You Experienced," "Electric Ladyland," "Purple Haze" and "Band of Gypsies."
Hendrix was bron in Seattle, Washington. He often visited Vancouver, B.C., to see his grandmother, a full-blooded Cherokee Indian. He served in the U.S. Army as a paratrooper and was a self-taught musician. He played guitar, piano, organ, drums and bass.
A friend in London said: "Despite his reputation as a wild man that had mothers locking up their daughters when he was in town, he was a perfect gentleman offstage, even to the extent of getting up and giving his chair to people. He was gentle and quiet spoken."
He dropped in unexpectedly at the Treasure Island "Club 300" in July with a friend, promoter Al Vinci, to watch a New York group called HOG perform.
Mrs. Pearl Stadnik of the Treasure Island Recreation Department said Hendrix was very sociable and "apparently liked the group". He drank a couple of soft drinks that night, signed autographs, and grinned at cameras."
Hendrix intrigued an audience of 7,000 at a Tampa concert in November 1968 with his naive reaction toward the amplifiers that electrify his guitar. He said, "Y'all labeled it electronic...I don't know nothing about it....I turn a button up and down-that's all."
Last December, Hendrix was acquitted in Toronto on charges of possessing heroin and hashish. During the trial, he said he used marijuana, hashish, LSD and cocaine, but never heroin.
He said recently: "The drug scene...was opening up things in peoples' minds, giving them things that they just couldn't handle. Well, music can do that, you know, and you don't need any drugs."