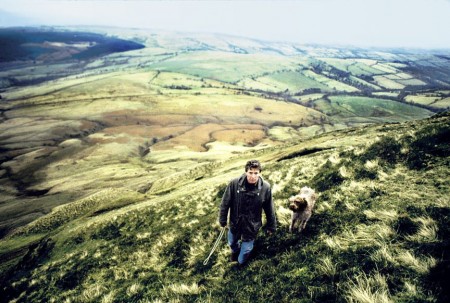 "Go Wild in the Country", Q Magazine, April 1994
You are Steve Winwood and life is good. Money's never been a problem - certainly not since your 1986 big money transfer from Island to Virgin, which was the benchmark for every major superstar deal since. You are the proud possessor of a comfortable pile in Gloucestershire, a star-studded and practically flawless CV, a reputation for being on e of the best white blues singers in the world, and a gold tooth. But there's one small fly in the ointment.
Your record company has an imaginative marketing department. They have meetings about you. They talk about your music in terms of "demographics" and "market penetration", probably with the aid of overhead projectors and pie charts. They come up with a dizzying array of "suggestions": "Why not this producer who'll make your record sound like Janet Jackson?" "Hey, you could be the next Michael Bolton!" And then there are the duets they try and get you to do - pairings you have to laugh off as "ludicrous, just silly".
So there you are with Jim Capaldi, friend and sometime colleague for the past 30 years. You're writing, not with anything specific in mind, just for the hell of it - you on the organ, him on the drums, just like the old days, singing lines off the top of your head, jamming. It occurs to you later that you're retreating into the musical identity that you're most confident and comfortable with. And before you know it, you've re-invented Traffic.
"I'd unashamedly admit that it was partly a consideration," admits Steve Winwood. "Let's not fool ourselves. Anyone who's signed to a record company, whether it's Leonard Cohen or Bucks Fizz, is subject to that sort of marketing pressure. And it's much harder to resist when you're a solo artist. You miss the insulation and strength of a group, because when you're solo you can be very vulnerable to the pitfalls of A&R control. In a group it's less to - you can just say, We play what we play, sound how we sound and if you don't like it, that's too bad. That was a consideration. And musically too, it was good to get back to something looser, untidier, rawer, than the solo records I'd been making, something less slick. Doing another Traffic album is something me and Jim have talked about and had in the backs of our minds for years. Now, we're finally got round to it."
It's 20 years since the last Traffic album, When the Eagles Flies. The intervening years have seen the death of the third core member, flute and saxophone play Chris Wood, in 1983, and the ebbing away of Traffic' reputation as one of the greatest, most innovative British bands of the era. Everyone remembers "Hole In My Shoe" (which the group, bar Dave Mason who wrote the wretched thing, were rather ashamed of, even when it earned them a Number 2 hit in 1967). Few (except Paul Weller, who's practically based his solo career on them) remember such classic LPs as Mr Fantasy (1968), Traffic (1968), John Barleycorn Must Die (1970), Low Spark of High-Heeled Boys (1972), and the live Welcome to the Canteen (1971).
Their other most notable achievement was pioneering the concept - which was to become the 70s rock cliché - of "getting it together in the country". They retreated to a cottage in Berkshire to write their first album in 1967 and operated from there for the next 2 years. It's a time that Winwood and Capaldi look back on with particular affection.
"The cottage thing came about for practical reasons really," Winwood reminisces. "We were staying in a house in London and whenever we wanted to play, the neighbors would be banging on the walls. We wanted somewhere where we could just ply whenever we wanted. We found this cottage in the Berkshire Downs. It was a big estate with a sort of hovel for the gamekeeper, which was what we rented. Actually, it was a beautiful place and we set up a sort of mud stage where we could just play in the open air. It was very cut off with no road to it, just a track, and there were only about 3 weeks in the year when you could get a car up there. The rest of the time it was just a quagmire."
"I think we endeared ourselves to our contemporaries," adds Capaldi. "People would come and hang out with us - Bonzo, Leon Russell, Stephen Stills, Ginger Baker, Pete Townshend, Eric Clapton - the hours would just drift into days. I suppose, looking back on it, they were all in cities in hotel rooms, going to the Bag O' Nails and all those clubs and getting out to the country was a nice break for them. You'd call it a hippy commune now, but at the time it was just a practical thing, but very inspirational. When I hear Traffic records and look back on those years, I don't really think of festivals and clubs and rock 'n' roll, I think of tracks on the Berkshire Downs, crows over a coppice. It was a very powerful experience."
"Before we formed Traffic, we'd hang around together, driving round to Whitley Court and these places in Worcestershire," says Winwood. "We'd visit ancient places like beacons, lakes and wells, to try and drink in something, learn something, understand something. A lot of this came from Chris Wood; he was a very big influence on us. He was interested in geological formations. He was a keen ornithologist and an amateur cartographer, not the sort of things you'd normally associate with rock 'n' roll.
"Traffic was always this strange mixture of influences. We all came through the nightclub scene, soul music, Memphis music which we were obsessed with, that strong urban element. But then we were fascinated by this whole other world, because we were all from fairly rural areas and we moved to the country. We tried to absorb the country into the music somehow, embody the things we'd learnt and seen into the music, try to make instrumental passages that evoked the landscape. It sounds ridiculous when you talk about it but we didn't talk about it, we just did it."
Inevitably, the 1994 Traffic album Far From Home, was hatched in the countryside, in a rented farmhouse called Woodstock House, just north of Wicklow in Ireland.
"We were stuck between the mountains and the sea. We could watch sheep out in the fields while we were playing. It made the atmosphere very similar to Berkshire and the old days. We'd do the same things - drive around, go to the pub, jam until something that we could work up into a song emerged. And the technology has made working this way so much easier. In the old days, we'd jam until we came up with something good, then try to recreate that in the studio. Nowadays, you can record just about anywhere and you can edit stuff straight on to the record. It was a really relaxed way of making a record and obviously we're really pleased now with how it's turned out."
The only hitch in the proceedings came when they sought permission to use their old group name. It belongs, along with a huge amount of other things, to their old Island boss, Chris Blackwell. He produced the 1967 contract to prove it. And he insisted on them paying him a "substantial fee".
"He's a businessman, I suppose," mutters Winwood.
"A merchant banker, if you ask me," laughs Capaldi.
-- Michael Birt