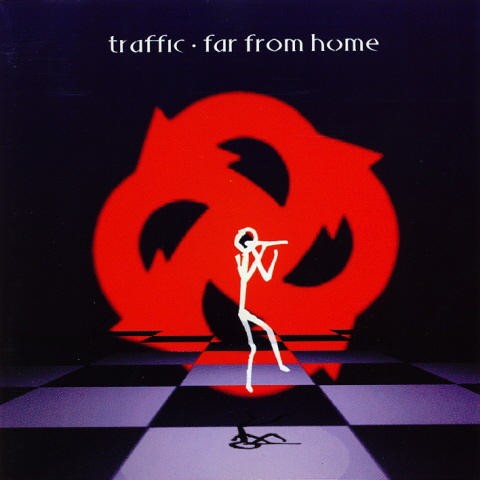 Interview: July 28, 1994
Interview with Steve Winwood and Jim Capaldi
By Mark Brown
Orange County Register, July 28, 1994
Reuniting Traffic, the English rock/blues/jazz group featuring Steve Winwood that broke up in 1974, wasn't a matter of just a phone call. There was the logistics of getting back together while living on different continents. There was the problem with the name. There was the problem with death.
But fate threw guitarist/vocalist/keyboardist Winwood back together with drummer Jim Capaldi in the simplest, most direct way.
"I ran into Steve in the street (in England),'' Capaldi said in a phone call from a rehearsal studio in London.
Winwood is now married to a woman from a small town near Memphis, Tenn. and lives in Nashville. Capaldi lives 30 miles outside of London. It was just chance that Winwood happened to be in England and bump into his old partner.
The pair had written the odd song or two together over the years, but decided this time to sit down and actually make an album, Winwood said, of how the new release, Far From Home, came about.
"We haven't been put up to this by our record company or management or anything. It's something we just wanted to do. We feel very comfortable with the idea of being Traffic," Winwood said.
"We got together and did some writing and it became obvious right there and then that this was it this was Traffic," Winwood explained. "It came out of the way we were writing the sound of Traffic. It was based very much on the way we write, which is kind of different to how we write on the solo albums.''
How, exactly, is this different from their solo works? It just is, Winwood insisted.
"As soon as we started to work on Traffic, it just sounded so much like Traffic. So that really clinched the idea to us: This has to be Traffic. Itjust sounded so undeniably like Traffic," Winwood said.
But it wasn't that easy.
"We had a problem getting the name. We found out we didn't own the name," Winwood said.
Former manager Chris Blackwell owned the rights to the Traffic moniker.
"Evidently when we were about 19 we signed a piece of paper (signing the rights away), which we didn't realize," Winwood said. "There was a lot of negotiating going on to get it back. He wasn't very willing to hand it over. We thought we owned it. But he had a piece of paper saying he had it. So that delayed the release of the album considerably.''
Was there a fan outcry for a Traffic reunion?
"No,'' Capaldi said. "But lots of people would talk about Traffic and say what a special thing we had. I've heard people say they still love the Traffic stuff.''
Two founding members are also missing. Guitarist/singer Dave Mason most recently joined the revamped lineup of Fleetwood Mac. And saxophonist/flutist Chris Wood died in 1983.
"We don't really know what Dave would have played on Low Spark,'' said Winwood, referring to Traffic's popular 1971 album The Low Spark of High-Heeled Boys.
"The character of what the band is is more Jim and I and Chris Wood,'' he continued. "Obviously we would have liked to have gotten Chris in the band.''
As for Mason, "we've spoken to him. If he wants to come and play, he'll do so, as a guest," Winwood said.
"Which is what he always did in America,'' Capaldi added. "We were still friends as it were, but friends from a distance.''
The tour will land the group at the Saratoga Performing Arts Center on Sunday at 8:15 p.m.
The show is all Traffic songs, with no Winwood or Capaldi solo material thrown in.
"There's a freedom in Traffic. There's a kind of roughness and something that I suppose is some kind of catalyst that Jim gives to me and maybe I give to him,'' Winwood said. "It makes us work in a different way. It's a different thing, being in a group. It gives you another kind of freedom and another environment.''
TRAFFIC. With special guests the Subdudes. 8:15 p.m. Sunday. Saratoga Performing Arts Center, Route 50, Saratoga Springs.