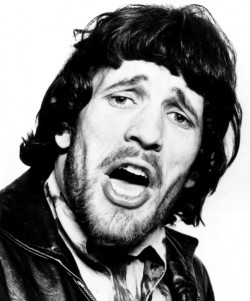 Jim Capaldi: Homage To An Unsung Hero
Jim Capaldi: Homage to an unsung hero
Belfast Telegraph, January 19, 2007
"Jim Capaldi is a bit of an unsung hero, a really under-rated drummer, and one of the greatest musicians and lyricists to come out of this country," says Paul Weller, who knows a thing or two about Sixties heroes. Later on this week, the Modfather will join another two of his idols, Capaldi's Traffic bandmate Steve Winwood and the Who mainman Pete Townshend, as well a host of other musicians, for Dear Mr Fantasy: A Celebration For Jim Capaldi, at the Roundhouse in London.
Weller first heard the group in 1967, and later recorded with Winwood and Capaldi. "I would have been nine when I heard Traffic through the first singles, 'Paper Sun', 'Hole In My Shoe', 'Here We Go Round The Mulberry Bush', 'No Face, No Name. No Number', all the early stuff. I came in at the pop end of it all. I just loved those records, I still do. They're real magical. 'Paper Sun' is probably my all-time favourite Traffic song. It's such a brilliant melody and the words are great. All that stuff is fantastic, the psychedelic pop thing, whatever you want to call it, but, ultimately, their music encompassed everything. They had all different styles all mixed into one," expands the Jam and Style Council frontman, who drew on Traffic's sound when he launched his solo career.
"They influenced what I did, especially on Wild Wood. Steve Winwood played organ on a couple of tracks on my next album, Stanley Road. Steve said Jim had mentioned to him to check out Wild Wood so that was nice," says Weller.
"A few years later, I played with Jim on what would have been his last solo album, Living On The Outside.
"Jim was a great character. We sang 'No Face, No Name, No Number' and 'Paper Sun'. He was talking about those days in Berkshire, when Traffic were all living together and making music. They would come back from gigs and play all night. It must have been amazing," muses Weller.
Born Nicola James Capaldi in Evesham, Worcestershire in August 1944, Capaldi came from a musical family but forsook his father's accordion for the drums and played in covers bands around the Midlands. With Dave Mason, Capaldi formed the Hellions and recorded three singles, for Piccadilly, which got nowhere fast in 1965.
At the time, Winwood was a teenage prodigy singing and playing organ with the Spencer Davis Group. By the middle of 1966, they'd topped the British charts with "Keep On Running" and "Somebody Help Me", but Winwood was having a better time jamming with Deep Feeling, Capaldi's new group. "We used to go and meet at this club called the Elbow Room in Birmingham," says Winwood.
"We started as friends. With Traffic, we could explore so much more." He has vivid recollections of his friend thinking up the group's name. "We'd been in a coffee bar in Worcester. We came out and we wanted to cross the road and we stood waiting. Suddenly Jim, with the massive burst of enthusiasm he always had when he thought of an idea, said: 'I've got it! That's it! Traffic!' And from that day on, we became Traffic."
Mr Fantasy, the band's debut album, and their 1968 follow-up simply called Traffic, both made the Top Ten, as did their first three singles, but a rift developed after the success of "Hole In My Shoe". "We never really felt that was Traffic, because Dave Mason wrote it and sang it. That caused him to leave," reflects Winwood, who briefly joined Eric Clapton and Ginger Baker in the super-group Blind Faith before reuniting with Wood and Capaldi in 1970 for John Barleycorn Must Die, arguably Traffic's finest album. "Jim was a great help to me as a writer. When we wrote together in Traffic, there was no outside influence from record companies. Everything we created was born out of the playing we did. 'Dear Mr Fantasy' is an absolute gem. 'Forty Thousand Headmen', 'Withering Tree', a slightly lesser-known one, 'Stranger To Himself', all great songs."
Though Winwood played keyboards, guitar and sang lead on most tracks, the more outgoing Capaldi was the perfect foil. He proved so prolific a writer that he managed to record three excellent solo albums - Oh How We Danced, Whale Meat Again and Short Cut Draw Blood - alongside his work with Traffic between 1972 and 1975. That year, the group split and the drummer scored a Top Five solo hit in the UK with a cover of "Love Hurts", recorded by Roy Orbison and the Everly Brothers.
Capaldi's writing often had a prescient tone, as the Free and Bad Company drummer Simon Kirke, another long-standing friend, is keen to emphasise.
"Jim was one of the first guys in rock'n'roll to voice his worry, his concerns with was going wrong with the environment, 35 years ago. And then he took up the cause for the children of the favelas in Brazil. He was a wonderful man," says Kirke. (Profits from the Roundhouse concert will go to the Jubilee Action Street Children Appeal, with which Aninha, Jim's Brazilian wife, is involved.)
Capaldi went on to release 12 more solo albums, often contributed to Winwood's post-Traffic output, and co-wrote "Love Will Keep Us Alive", the hit from Hell Freezes Over, the Eagles' mid-Nineties comeback album. In 1994, Capaldi and Winwood reactivated Traffic - without Wood, who died in 1983 - for the Far From Home album, toured with the Grateful Dead and sounded like they'd never been away. In 2004, they were inducted into the Rock'n'Roll Hall Of Fame. Jim Capaldi died the following January.
"Jim and I had an agreement that neither of us would go out as Traffic without the other," says Winwood, "but I play some of those songs. I want to make this show as special as I can."
Pete Townshend, too, is looking forward to joining Yusuf Islam, Winwood, Weller, Joe Walsh, Gary Moore, Jon Lord, Bill Wyman and Simon Kirke for an event that echoes another occasion 34 years ago. "Jim took part in the Eric Clapton Rainbow concert in 1973. He was an extraordinary artisan on the drums. I'm such a huge fan.
Dear Mr Fantasy: A Celebration For Jim Capaldi is at the Roundhouse, London on Sunday, 21 January. More info at www.dearmrfantasy.net