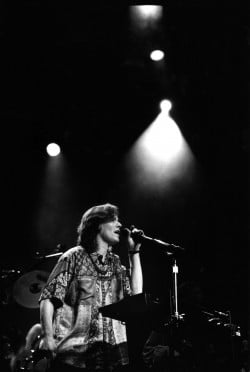 Roll With It Review
A HIGH ROLL FOR STEVE WINWOOD
The Boston Globe, June 18, 1988
By Steve Morse

When he was only 16 years old, Steve Winwood was credited with the best blue-eyed soul voice in Britain. That was way back in 1963 when he sang with the Spencer Davis Group. He later anchored the groups Traffic and Blind Faith, then disappeared into his country estate for a while before fashioning a Grammy-winning solo career in the '80s.
The one constant throughout Winwood's career is that voice -- a yearning, deep-from-within tenor that can run from raw to celestially smooth in the blink of a phrase.
The soulfulness of his voice has often been submerged to high-tech, gentlemanly arrangements in his three prior '80s solo disks, but the voice is back in all its glory on his fourth solo LP, "Roll With It" (Virgin Records), which will be released Monday.
This is the closest in years that Winwood has sounded to his Traffic era, when the group was capable of magnificent R&B before turning in a neo-psychedelic, experimental direction. In more specific terms, the new album is also a deliberate attempt to recall the strengths of the Memphis Stax/Volt era -- when deeply grooved rhythms and chatty horn charts helped make stars of the likes of Otis Redding and Eddie Floyd.
"Roll With It" starts rolling from the outset. The title track is up first and is propelled by Winwood's old-fashioned Hammond organ, while a honking sax solo evokes memories of Junior Walker's "Shotgun." The lyrics, again written by Winwood's '80s collaborator Will Jennings, reflect a determined optimism that has become Winwood's calling card. "People think you're down and out/You show them what it's all about/You can make it/Roll with it!" he sings like a reborn 16-year-old.
The next song, "Holding On," keeps that swinging momentum. There's an uplifting backup chorus and even a shot of percussive maracas at one point. It's a long way from the cautiousness that has often affected prior solo albums, even the last solo LP, "Back in the High Life," which won him a Grammy for best pop male in 1986, but still was mostly a batch of artful, carefully composed singles without the grit of the Traffic days.
The new album is a lot more street-savvy, but is not a total clinic in Memphis soul. Winwood has hardly turned his back on ballads -- and the new album has some of his best. "One More Morning" has an Al Green-like prettiness to it, describing a spiritual need to move on at all costs. Then there's the sultry love ballad, "Don't You Know What the Night Can Do," which has hit single written all over it.
But the root of the album is its nod to Memphis dance music. And amid more Memphis-style horns, there's even a song, "Hearts on Fire," which reunites Winwood with Traffic drummer Jim Capaldi. This is blue-eyed soul that looks back, but doesn't wallow in sentimentality.The one constant throughout Steve Winwood's career is that voice -- a yearning, deep-from-within tenor that can run from raw to celestially smooth in the blink of a phrase.