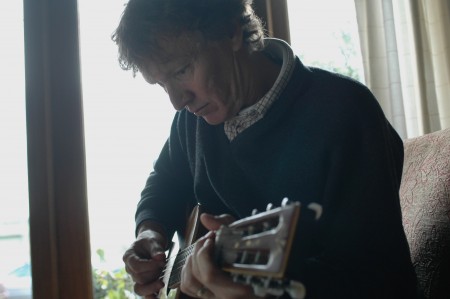 A Chat With Steve Winwood: June 10, 2005
A chat with Steve Winwood
The Annapolis Capital, June 10, 2005
by MICHAEL BUCKLEY

Rock and Roll Hall of Fame member Steve Winwood of Traffic fame comes to town to play the Rams Head Live! in Baltimore on Tuesday.
His most recent release, "About Time," features an ongoing exploration of the Hammond B-3 organ, a journey that started when only 15-years-old, Mr. Winwood first heard Ray Charles play "What I'd Say" back in the early 1960s.
Talking to Mr. Winwood by telephone last week from his home studio in London, he spoke passionately about his love for Mr. Charles' music.
"Ray Charles was a big turning point for me and suddenly I heard this music and I had to learn more about where it came from - what made this music work - because it did something to me that no music had really done before," he said.
"There are very few singers that haven't been influenced by Ray Charles. For me he was a mentor and one of my all-time heroes."
The influence of Ray Charles on the music of Steve Winwood can be heard in his earliest recordings with the Spencer Davis Group, songs like "Give Me Some Lovin"' and "I'm A Man," as well as Traffic tunes ("Glad") and his solo records ("Roll With It" for example).
Mr. Winwood always has been deeply committed to instilling musical sounds from around the world, as well as folk and jazz, into his rock and roll based sound.
"I think that's what made Traffic sound different from other bands of the time," said Mr. Winwood.
Speaking about the latest CD, "About Time" and his collaborations with current band mate, Portuguese guitarist Jose Neto, Mr. Winwood reassures us that his musical course hasn't changed.
"He (Mr. Neto) has a way of combining Brazilian music and rhythms and melodies with rock music, which I found was an intriguing combination," said Mr. Winwood.
"I found out that Brazilian musicians don't believe that their music is Latin," he said. "They believe that it is Brazilian music, which is quite different from Latin music. We've combined that (Brazilian music) with Latin elements, some African and Caribbean rhythms and rock music. (Mr. Neto) is a great guitarist. He plays a nylon (stringed) guitar, using a lot of pedals and effects, and he's hugely influenced by (Jimi) Hendrix and Jimmy Page."
Last year after their induction into the Rock and Roll Hall of Fame, a Traffic reunion tour was in the works when founding member/ drummer Jim Capaldi unexpectedly passed away. Mr. Winwood reflected on his friend, bandmate and songwriting partner.
"We were very excited about (the Traffic reunion). We'd gotten to the point of putting band members together and even discussing what songs we were doing. Now, Traffic will never ever be anymore, because there's no way it can be Traffic without Jim Capaldi."
There is, however, much to look forward to for fans of both Traffic and of Steve Winwood as a solo artist. He will play Traffic songs in his live set, as well as songs from Blind Faith (with Eric Clapton), the Spencer Davis Group and the solo records. There is a live DVD recording on the way featuring Traffic, and a live solo recording that could be released as a Dual Disc (new technology which features a CD on one side and DVD on the flip side), and there's a new solo studio recording, with more touring to follow.
On what inspires the eternally youthful rocker to continue to record and tour, Mr. Winwood offers: "I'm inspired by playing live and playing with great musicians. I'm (also) inspired by what goes on in the world and I feel that I have a roll to play to bring music to people and perhaps, albeit briefly, to transport them from more mundane issues of the times that we live in."