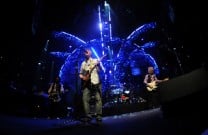 Steve Winwood's Musical Lives
Steve Winwood's Musical Lives
Sunday News, Lancaster, PA
January 18, 2009
by John Duffy

To the radio-listening public, Steve Winwood is best remembered as that guy who had a string of sleek pop hits in the mid-1980s: "Back in the High Life Again," "Roll With It," "Valerie," "Higher Love."
But in a music career that spans five decades and several genres and includes stints with two of the most influential groups in rock history, Winwood's hit parade accounts for only a few years.
To students of British blues, he remains the 15-year-old Ray Charles sound-alike who belted out the hits "Gimme Some Lovin'" and "I'm a Man" for the Spencer Davis Group in the mid-1960s - songs oozing with heavy soul and characterized by Winwood's aggressive organ.
To stoners and jam-band followers, he will be forever remembered as the guy who founded and led Traffic, whose perennial favorites "Feelin' Alright," "The Low Spark of High Heeled Boys," "Dear Mr. Fantasy" and "John Barleycorn" represented the earliest and most successful fusion of psychedelic and progressive rock blended with folk, jazz improvisation and what we now call world music.
In the short-lived supergroup Blind Faith, he contributed classic- rock staples such as the acoustic, soulful "Can't Find My Way Home."
With the discovery and mastery of synthesizers in the early '80s, he reached mainstream pay dirt with the massive hit "While You See a Chance," a song that, for as much as it plays in the dentist's office, remains one of the truly soulful songs of the new-wave era.
So in the mid-'80s, when Top 40 embraced him so warmly, many older fans saw it as a major departure. Some have criticized the music of that period as being too ambitiously commercial, but Winwood disputes that notion.
"I've always been interested - going all the way back to Spencer Davis - in combining many different types of music and bringing in different elements," he said in a telephone interview from his home in Wales, in advance of his performance Thursday, Jan. 22, at American Music Theater on Lincoln Highway East.
His willingness to experiment included embracing the slick production style of the 1980s.
"And it certainly sounds like [those songs] come from the 1980s, but from a musical perspective, I really feel that period was part of the continuation, even if it does represent a flirtation with a sort of global corporate element of music."
It is true, a song like "Higher Love" featured wheezy synthesizers and background vocals from Chaka Khan, but it also boasted a distinctly Afro-Cuban beat. And "Back in the High Life" was probably the only song on Top 40 radio at the time that featured both accordion and mandolin.
Aside from a brief Traffic reunion, the 1990s were drier times for Winwood, who recorded on his own only sporadically and with little success. He spent a lot of time collaborating on world music projects.
Early last year, Winwood released "Nine Lives," his most critically and commercially well-received effort since the heady days of synthesizer-driven arena pop. The album takes the best of Winwood's pop period - the tunefulness and accessibility - and adds touches of the heavier psychedelic and world music of his earlier years. The result is a laid-back brand of soul rock that neither demands nor confronts. Make no mistake: This is not smooth jazz.
Winwood's voice sounds as good as ever, though these days he has to plan more carefully how he sings. "What you did with pure brawn when you were 25 you have to do more with your head at my age."
Such is the case with album-opener "I'm Not Drowning," which features only Winwood's soulful tenor, his acoustic guitar and hand claps. The power is in his restraint. He continues to earn, here, his No. 30 ranking on Rolling Stone's list of all-time great rock- 'n'-roll singers.
Though understated on this date, Winwood's Hammond organ remains distinctive, rushing under the congas and saxophone on "Fly." The relentless instrumental searching of his Traffic/Blind Faith days are behind him, and Winwood appears to be on more of a spiritual quest on "Nine Lives," wherein he sings of a world "too beautiful to bear."
Old mate Eric Clapton even visits with a sick-sounding solo on "Dirty City," the track most played by radio.
At his home studio, on an expansive farm where he spends his off time planting trees and restoring native grasslands, Winwood recorded "Nine Lives" with his five-piece touring band, which, he said, made the album a more complete recording.
"I've done albums where I've played everything myself, and I've made records with everyone in the same room. It's like the difference between theater and cinema."
Many of the songs on "Nine Lives" were inspired by the very people who played on it, Winwood said. Standout players include Winwood's co-writer, guitarist Jose Pires de Almeida Neto, drummer Richard Bailey and percussionist Karl Vanden Bossche.
"It was time for me to do it this way again," he said. "It gives the album a completeness."
Also clearly evident on the album is the influence of Jim Capaldi, Winwood's longtime Traffic partner, who died in 2005. "It was a great loss. He was a great partner. There are so many things he brought to Traffic as a percussionist that remain with me today."
Influential musicians, like Capaldi, tend to leave a mark on their collaborators, infecting their sound.
"I've always felt music should have a sort of bacteria to it," Winwood said.
The percussion and flute that characterized so much of Traffic's music sprawls across "Nine Lives." And without Capaldi, Winwood said, there will never be another Traffic.
"We had an agreement that without both of us involved, there would be no Traffic. But his spirit is there on 'Nine Lives,' absolutely. His influence is alive."
Steve Winwood will perform at American Music Theatre, 2425 Lincoln Highway East, at 8 p.m. Thursday, Jan. 22. For ticket information, call 397-7700.