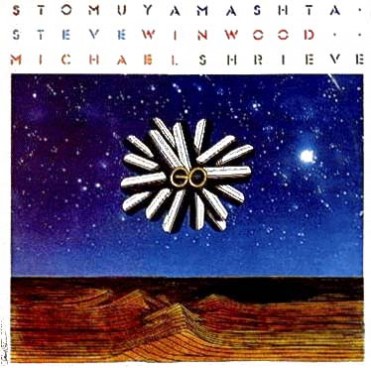 Go: Liner Notes
Go: Liner Notes
by Robin Denselow, April '76
Two of the most widely-used and misused phrases in the rock writers' dictionary are "rock-classical" and "concept album". Anyone playing keyboards and putting a slow melody to a rhythmic backing is likely to be tagged with the former, and anyone even hinting at a story or a theme that is kept up for more than one song is praised for achieving the latter. Which wouldn't matter so much if the phrases hadn't become so debased in the process, so that when an extraordinary album like this one crops up, fulfilling both categories and a great deal more beside, it sounds misleadingly flat to use them.
Still, here goes. This is a 'rock-classical' album, in the very rare sense that it is art created from a variety of apparently contradictory influences - from 'serious' modern music to rock, jazz to electronics. Stomu, in his slightly broken English, puts it perfectly when he says his idea was to "make a giant pop classic-there should be no walls", refers back to the amazingly varied musical and theatrical projects he has been involved in in the past, and says "everything up to now was practice."
This is also a genuine 'concept album', and the story that inspired and is reflected by the songs (though not explained in detail by the music) may well be expanded in later concerts, films or elaborate stage-shows. "Go" is conceived as the basis for possible multimedia experiments, maybe involving dance, mime and special electronic effects, further exploring the rock-theatrical field in which Stomu has already achieved so much.
And as if that wasn't enough, this is also that great rarity, a 'super-session' album that actually works. The musicians come literally from right across the world (Japan, Germany, Britain, America) and the empathy between them is remarkable. The work is obviously an important one for Stomu-it is, after all, his finest achievement yet-but it's almost as important for his two main helpers, Stevie Winwood and Mike Shrieve.
Stevie has been something of a mysterious recluse since the demise of Traffic (in fact he's been taking an interest in African and Puerto Rican music, while keeping out of the public view). Re-appearing on this album, he adds a lot of organ playing, a little guitar (on Winner/Loser), and some of the most magnificent singing he has ever put down on record. For Mike Shrieve, as for Winwood, recording with Stomu marks a complete change, and also the start of a new cycle in his own career. A member of Santana until after their "Borboletta" album, he has since been involved in solo experimental projects (including a solo album involving electronic drumming), and has now started a band of his own, Automatic Man. He and Stevie had both contacted Stomu to talk music, and when Stomu mentioned the "Go" project to them "it just sort of happened that we all got together". Helping the three of them out in this unique meeting of different talents are such distinguished musicians as Al DiMeola, the remarkable young guitarist from Chick Corea's band Return to Forever, and Klaus Schulze, the synthesizer wizard who has created such extraordinary effects for Tangerine Dream, Ash Ra Tempel, and on his solo works. Rosko Gee a former colleague of Stevie Winwood's in Traffic holds it all together with his bass work.
The theme of "Go" is change and polarity-fantasy and reality, death and re-birth, things changing to their opposites-so it's only appropriate that this work should appear at a time when on the surface the genuinely experimental side of rock is going through a dull patch. "There are changes going on", says Stomu, "look at the success of bands like Weather Report and Return to Forever". And just as he watches the development of avant-garde and jazz-rock groups, he's also in a unique position to monitor the so-called "serious" modern composers-having worked with them and performed their music. "You've got to watch what Stockhausen does now, and Henze", says Stomu. "They are aware of pop music now. I think they are waiting to break in that direction".
Stomu has never worried about making first moves, as his whole extraordinary career until now-and this album in particular-goes to prove. As a percussionist, he has built up a massive reputation in both the classical and jazz fields: among his varied activities he has toured with the Chicago Chamber Orchestra, recorded works by Henze and Maxwell Davies, and worked with the jazz-rock band Come To The Edge. Moving on from performing to writing, directing and composing, he has written (and taken part in) highly successful theatrical and multimedia shows like The Man From The East and Raindog, which involved acting, mime and dance as well as music. He has also toured with a band of his own-something he no longer wants to do "because of all the personal problems you get into". His music has been used in a host of films, including Russell's "The Devils" and Roeg's "The Man Who Fell To Earth". And to round all that off, he more recently wrote the score of the "more classical" "Shukumei" for the British Royal Ballet.
All of this, says Stomu, helped prepare for "Go", which he regards as his first major work, influenced by "...all the things I've done-it's my experience of music". The result is a work that, in parts, has echoes of Weather Report, Tangerine Dream, Stockhausen, Mike Oldfield, The Pink Floyd, soul music and bossa nova, and still leaves space for Stevie Winwood and Al DiMeola to show off their talents to the full. What's more, it actually works as a coherent piece of music, rather than being just a clever pastiche. To carry it all off, and get such a diverse collection of musicians inter-reacting so well, required talents of organization and diplomacy, quite apart from composing and playing. Before the recording started he gave a party, showed NASA space films, and discussed the ideas behind the work at length. In composing, he concentrated on creating the right mood for each section, but at the same time leaving room for improvisation where needed, knowing in advance the strengths and style of each player. It was by getting this careful balance right that Stomu managed to create the right conditions for such powerful singing by Stevie Winwood, and the quite incredibly fast, sensitive guitar solos by DiMeola (listen, for instance, to his playing on "Man of Leo" - he starts by repeating a jangling phrase with the precision of a demented metronome, then bursts out into a remarkable extended solo).
The story behind "Go" is loosely based on the game of that name, in the sense, as Stomu says, that "it's a game of chance, random and abstract, with few rules". It's also about opposites colliding, reality and fantasy shifting into one another, re-birth through suffering, and defeat turned to victory. As always with Stomu's work, the ideas are abstract, and are developed through a series of musical (or on stage musical/theatrical) cameos and set-pieces that can also be appreciated just for themselves. The one small problem about explaining the story of "Go", and relating it to the album, is that the story actually starts at the beginning of Side Two and ends at the end of Side One. While you are perfectly entitled to be conventional and play Side One followed by Side Two (as a piece of music it even sounds better that way), an explanation of what the tracks are about will have to be the other way round. Maybe this is just another of Stomu's polarities.
So. The story starts (on Side Two) far out in the cosmos, with "Space Requiem" and then "Space Song". Klaus Schulze and Stomu man the battery of synthesizers and electronic hardware, Stomu's wife Hisako plays violin, and the mood (with echoes of mid-period Pink Floyd) is of cosmic grandeur and hurtling through space. The effects to be used in any film or stage productions can be imagined. Darkness, stacks of TV monitors, and that NASA film that Stomu used to inspire his musicians.
From out in space, one star looms into vision, and rushes up towards the audience until suddenly one has crash-landed on earth. "Carnival" is in progress-drumming, discordant sounds through bursts of brass, and a mood that echoes Stravinsky's Rites of Spring. The dancing and celebration slowly develops into a contest-hand-to-hand fighting, wrestling and kung-fu-in which a champion, Kurata, emerges. He is then challenged by a mysterious rival, Fu-Shen, who suddenly changes his victory into disaster by defeating him completely, and blinding him in the process. This section is reflected on the album by "Ghost Machine", a fast, aggressive, rockish piece, with Stevie singing and Al DiMeola adding the speedy guitar work. Kurata's defeat is then reflected by two ballads, the pastoral and melodic "Time is Here", a song of re-birth and recovery from near-death, and the faster "Winner/Loser" which again echoes the theme of change, and victory and defeat merging into one another. Both give opportunities for more magnificent Winwood vocals.
In the second half of the story (the first side of the album) the theme becomes a little more abstract. Kurata in defeat has lost everything-his power, his status and his wife-and to find redemption and recover he goes of into an ambiguous area of 'nature'. It's both a physical and a mental wilderness in which he is cared for by birds and animals, and then also by a black man who shows him that even in his blindness he can find the strength to live in a hostile environment. By suffering and surviving, by going through the fire, so to speak, he can become invulnerable. The style of the music changes again for this section. "It's like ballet", says Stomu. The orchestral, pastoral "Solitude" leads into a brief ballad, "Nature", then into a more spacey, floating, synthesizer piece "Air Over", and into more great Winwood vocals on another strong ballad, "Crossing The Line". The 'line' in question is that between reality and the fantasy/mythical world of 'nature' in which Kurata makes his recovery.
Crossing back over to the world of 'reality' the blind Kurata is now strong enough to effortlessly beat Fu-Shen. Defeat has been turned to victory, and the theme for the celebration that follows is "Man Of Leo". There are echoes of soul, jazz-rock and bossa nova here, and once again there's the remarkable combination of Winwood vocals and Al DiMeola guitar. The celebration fades away, and the story ends by pulling away from the narrow focus on the events on earth, and taking the audience back where they started, out in the depths of space. The joyous jazz-rock feel begins to break up as Schulze's synthesizers starts pushing in, and then, with the clanging of a bell that marks the return to space, it's back to the cosmic themes and the chattering rhythms of electronics, with "Stellar" and "Space Theme". That's the end of one cycle of "Go".
It's up to Stomu, the fates, and the economics of rock-spectacular presentation, exactly what happens to "Go" from here. Maybe it will be developed into a multimedia show, maybe something different. The most important part, and the starting point for any further projects, is the music. With this album Stomu has fulfilled the promise of his earlier work by creating a style that is genuinely experimental, and really does break down the barriers.
-- Robin Denselow, April '76