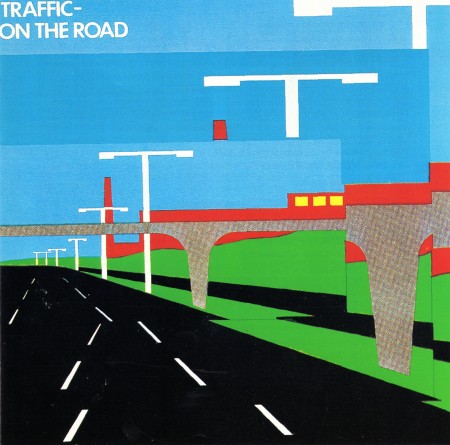 On The Road: Liner Notes
Traffic: On the Road Liner Notes
By Bill DeYoung
The creative juices were still flowing after Traffic made Shoot Out At the Fantasy Factory in 1973. A world tour was mounted to show off the new, expanded edition of the band -and the result was a high point in Traffic's long and distinguished career.
Recorded live in Germany, On the Road featured core members Steve Winwood (vocals, guitar and piano), Jim Capaldi (percussion and vocals) and Chris Wood (flute and saxophone), playing alongside percussionist Reebop Kwaku Baah, who joined Traffic for 1971's Welcome to the Canteen) and Muscle Shoals rhythm section bassist Roger Hawkins (drums) and David Hood (bass).
Keyboard master Barry Beckett, another Muscle Shoals studio vet, was added on piano and Hammond organ to allow the versatile Winwood to switch between instruments.
With six songs spread over a two-LP set, On the Road presented to the world a new and dynamic Traffic, as far as imaginable from the pop psychedelia of the early years and the blues-based rock of Winwood's brief tenure in the supergroup Blind Faith.
On the Road took the loose-limbed, multi-textured music of The Low Spark of High Heeled Boys and Shoot Out and placed it in an exciting new setting: Traffic as a jazz band, exploring the dynamics of the songs and subsequently taking them to unpredictable places.
There's a feeling of musicianship on On the Road that really made these songs -sonic experiments wrapped around conventional lyrics and music -come alive in the concert setting. Audiences on the tour, which crossed the US and Europe, saw and heard a bold new direction from a set of seven brilliant musicians.
Both Winwood and Wood were infatuated with jazz pioneer Miles Davis, and Davis' improvisational style imbued On the Road with a wide spectrum of colors and dynamics. Each of the musicians was given time to stretch and have fun during extended workouts of "(Sometimes I Feel So) Uninspired," a medley of "Glad" and "Freedom Fighter," the title songs from Low Spark and Shoot Out, and Wood's instrumental opus "Tragic Magic."
A surprise highlight of the set was a be-bopping take on Capaldi's "Light Up or Leave Me Alone," one of the most popular cuts from Low Spark Of High Heeled Boys.
After the tour, however, Winwood sent the Americans home. The expanded lineup, he told Rolling Stone, simply wasn't working -and he had a lot of new ideas to pursue.
"We like to record a track one month and another a month later," he said. "And the Muscle Shoals guys wanted to be constantly working when they weren't in their own studio; so it wasn't fair to make them sit around and wait for us."
After re-inventing themselves time and time again, Winwood and Company were about to make things simple again; their next album would return the focus to simple songcraft and Winwood's singing.