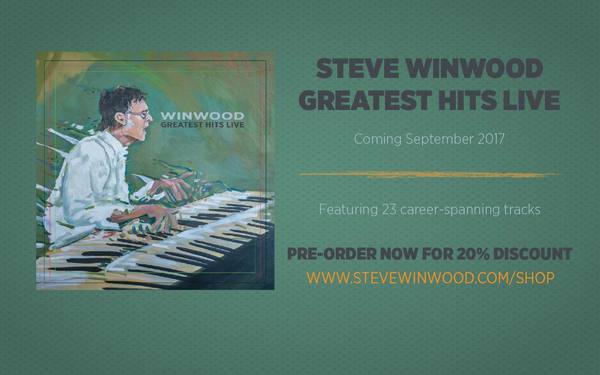 Greatest Hits Live: Pre-Order Now
'Winwood Greatest Hits Live' is a new 2CD/4LP collection sourced from Steve's personal archives of live performances. With a 23-song tracklist hand picked by Steve, featuring his best loved songs, Greatest Hits Live is Winwood's first ever live release as a solo artist, offering fans a definitive musical portrait of his five-decade career.
The expanded 2CD/4LP gatefold package features rare, previously unreleased material touching on all aspects of his extensive catalog, including contemporary arrangements of the music he created with the Spencer Davis Group, Traffic, Blind Faith, and his solo recordings. The collection channels R&B, Jazz, Funk, Classic Rock, Pop and Folk, highlighting Winwood's unique ability to fuse multiple genres into a singular,cohesive musical expression.
Winwood Greatest Hits Live is available now for pre-order exclusively at SteveWinwood.com and will be released this September on Wincraft Records. Each vinyl set includes a digital download card.
Limited Time Offer: pre-order now and get a 20% discount.
Catch Steve on tour this Spring, Summer and Fall in the US, UK and EU - click here for a full list of tour dates.
'Winwood Greatest Hits Live' full tracklist:
CD1
1. I'm A Man
2. Them Changes
3. Fly
4. Can't Find My Way Home
5. Had To Cry Today
6. Low Spark of High Heeled Boys
7. Empty Pages
8. Back In The High Life Again
9. Higher Love
10. Dear Mr Fantasy
11. Gimme Some Lovin
CD2
1. Rainmaker
2. Pearly Queen
3. Glad
4. Why Can't We Live Together
5. 40,000 Headmen
6. Walking In The Wind
7. Medicated Goo
8. John Barleycorn
9. While You See A Chance
10 Arc Of A Diver
11 Freedom Overspill
12 Roll With It