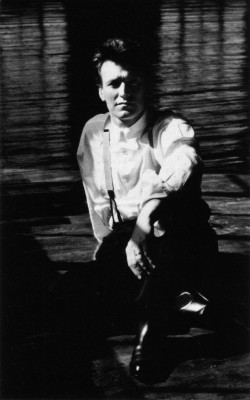 Pop Life: New York Times, September 16, 1986
POP: STEVE WINWOOD
New York Times
By STEPHEN HOLDEN
Published: September 16, 1986
Although it has been nearly 20 years since he had his first hits, ''Gimme Some Lovin' '' and ''I'm a Man,'' with the Spencer Davis Group, Steve Winwood doesn't wear the predictable aura of a weather-beaten rock veteran. Indeed, the English pop-blues singer and multi-instrumentalist, who is a very young-looking 38 years old, is more popular today than in the late 1960's and early 70's, when he led the English folk-jazz-blues band Traffic. The spare textures and loosely blocked arrangements of his music today make only minor concessions to contemporary pop sounds as he continues to evoke an earlier, more romantic period in rock history.
Appropriately, Mr. Winwood's sold-out Pier 84 concert on Friday night had the ''good vibes'' atmosphere that one used to feel at certain rock shows 10 to 15 years ago. The good feelings all had to do with Mr. Winwood, who is riding high on the charts with his latest solo album, ''Back in the High Life.'' That album, which has spawned a No. 1 hit, ''Higher Love,'' offers blues-flavored pop-rock songs with mystically inclined lyrics tailor-made for Mr. Winwood's extraordinary voice.
Out of the scores of English singers to have incorporated American blues and soul inflections in the last 25 years, Mr. Winwood, with his stringy, imploring tenor, is one of the most eloquent, communicating equal measures of emotional vulnerability and spiritual reserve. One can hear his influence on many other younger pop singers, most notably Sting.
After opening Friday's set with the slinky jazz-blues Traffic song, ''The Low Spark of High-Heeled Boys,'' Mr. Winwood concentrated mainly on recent material. His performances of ''My Love's Leavin' '' and ''The Finer Things,'' two ballads from his newest album, stood out as especially compelling. ''Higher Love,'' whose Caribbean flavor strongly echoes Lionel Richie's ''All Night Long,'' became a happy audience sing-along.