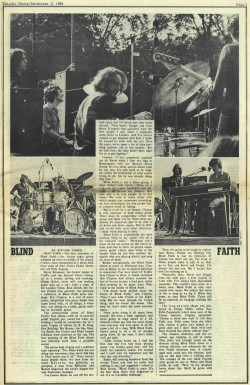 Blind Faith: Madison Square Garden, July 14, 1969 Review
Blind Faith Group Sings
New York Times, July 14th 1969
By Mike Jahn
Blind Faith, the British rock group succeeding Cream, which became very popular in the last few years, played an impressive opening Saturday at Madison Square Garden.
Blind Faith presents Eric Clapton on guitar, Ginger Baker on drums, Steve Winwood, guitar and keyboards, and Rick Grech, bass and electric violin.
The group packed the Garden in its first United States appearance. As usual, the Garden sound system was bad, and the breaks between songs were punctuated by indignant shouts to that effect. Considering the acoustics and the size of the house, Blind Faith did rather well.
Mr. Clapton and Mr. Baker play loosely structured, emotional music. Mr. Winwood leans toward tightly structured but soulful rock. Putting together such intensely individual artists as those three men is a risky business. Blind Faith emerges as more versatile and precise than either cream or the rival British group Traffic, but unfortunately not as exciting as either.
Mr. Winwood's vocals were taut and effective as usual. Mr. Baker contributed an explosive, imaginative drum solo that was the emotional high point of the night.
Also on the program were Delaney & Bonnie and Friends, an exciting soul-and-gospel group from Los Angeles.