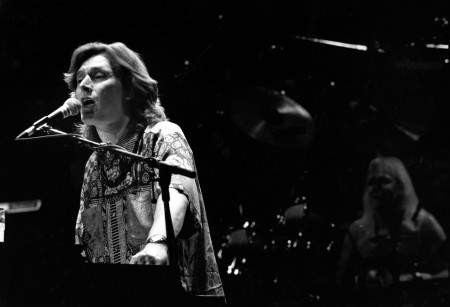 Press Release: Refugees of the Heart, October 1990
With a new album -- Refugees of the Heart -- ready to be unleashed, Steve Winwood once again proves his enduring ability to make great music. Winwood's artistic stature and multi-platinum popularity attest to the timeless beauty of his songs. In a music world swept by stormy winds of change, Winwood's soulful voice and songwriting remain an inspirational and seemingly immutable musical force.
RH is the latest chapter of the 26 year long 'burst of creativity' which constitutes Steve Winwood's career, a career he began as the 15-year-old lead singer with the Spencer Davis Group. Steve and his older brother, bassist Muff Winwood, joined Davis (a professor at the University of Birmingham in the Winwood brothers' British hometown) in 1964, and in August on that year the Spencer Davis Group released their first record. A string of classic hits followed over the next few years, including "Keep On Running" (their first #1 hit in England), "Somebody Help Me" (also #1 in the UK), "Gimme Some Lovin'" and "I'm a Man". By the time "I'm a Man" hit the charts in 1967, a new phase of Winwood's career was already dawning: Traffic.
Traffic offered a perfect environment for Winwood to explore new musical horizons, a creative greenhouse with a formidable lineup. Winwood and bandmates Jim Capaldi (drums/vocals), Dave Mason (guitar/vocals), and Chris Wood (saxophone/flute) blended R&B, jazz, classical, and folk influences to forge their unique sound. Traffic's first single, "Paper Sun", quickly reached the Top 5 of the British charts in the summer of 1967; by year's end -- 2 more hit singles later -- the groups has recorded and released their debut album, Mr Fantasy. A second album, entitled simply Traffic, followed in 1968.
At the start of 1969, Winwood began working with Eric Clapton on a new project, Blind Faith. Because of tis blockbuster lineup - Winwood, Clapton, drummer Ginger Baker, and bassist Ric Grech - Blind Faith was quickly shackled with the 'supergroup' label, to the dismay of the bandmembers. "I never wanted to be a great star," Winwood says in retrospect. "I only wanted to be a great musician." After one enormously successful album (Blind Faith), a single concert in London (in front of 100,000 people in Hyde Park), and a lengthy tour of America, Blind Faith was no more.
Winwood fled the harsh 'supergroup' spotlight and returned to the relative 'calm' of Traffic for an incredible 4 year period of music making. 1970's classic John Barleycorn Must Die was followed by 3 more extraordinary albums: Low Spark of High Heeled Boys in 1971, Shoot Out at the Fantasy Factory in 1973, and When the Eagle Flies in 1974.
Their albums and worldwide tours earned Traffic enormous acclaim, but the relentless pace took its toll on the bandmembers. "Touring was so difficult for me," Winwood recalls. "For every 8 months I did it, I'd have to have at least 4 months to recover." The group's 1974 tour was their last, and Winwood began a 3 year decompression period. "It was a period I needed to go through so that the pressure to work would come only from me again. There's no point in pressure coming from someone else, whether it's an audience or a record company. It doesn't work."
In the relaxed atmosphere of his home recording studio, Winwood began piecing together what would eventually become his first solo album, as well as taking the opportunity to work with colleagues George Harrison, Eric Clapton, and Marianne Faithfull. The 1977 solo debut Steve Winwood marked the beginning of a new creative cycle, during which Winwood would master all aspects of music making -- writing, performing, producing, and engineering -- with stunning results: the brilliant Arc of a Diver album in 1980 and the well-received 1982 release Talking Back to the Night. Buoyed by this success, Winwood returned to the road with his six-piece band for concert dates throughout Europe and Britain in the summer of 1983.
Following a 2 year hiatus, Winwood chose to record his next album in New York, working with producer Russ Titelman and a cast of musical luminaries, including Chaka Khan, James Ingram, Nile Rogers, James Taylor, and Joe Walsh. Back in the High Life became an unequivocal critical and commercial smash. Nominated for 6 Grammy Awards in 1986, the multi-platinum album won 3: Best Male Pop Vocal Performance for "Higher Love", Producer of the Year (shared by Winwood and Titelman), and Best Engineered Recording (shared by Tom Lord Alge and Jason Corsaro). "Higher Love" also became Winwood's first #1 hit single in the US.
In 1987, Island Records released Winwood's last album for the label, Chronicles, a compilation of his solo work. He joined his new label, Virgin Records, later that year.
Winwood's Virgin debut, Roll With It, took the music world by storm. The album blazed its way to #1, and the title track topped the singles charts. Effusive critical praise and multi-platinum success were reflected by numerous award nominations, including 4 Grammy nominations (Record of the Year, Album of the Year, Best Male Pop Vocal Performance, Best Engineered Recording) and 2 American Music Award nominations (Favorite Male Vocalist, Favorite Single for the title track).
Refugees of the Heart represents the newest example of Steve Winwood's musical vision. The creative team from Roll With It returns in peak form, with Winwood at the producer's helm and Tom Lord Alge engineering the recording sessions in England and Nashville. Will Jennings co-writes 7 of the 8 tracks with Winwood, a creative relationship that goes back to Arc of a Diver. As on Roll With It, Winwood also collaborates with Traffic bandmate Jim Capaldi on one song, the album's rousing lead-off single "One and Only Man".
This award-winning coterie always brings out the best in Winwood, and on Refugees of the Heart he reaches new creative heights. Steve Winwood fuses fresh ideas and timeless songwriting to forge the newest chapter of a legendary musical career.
10/90