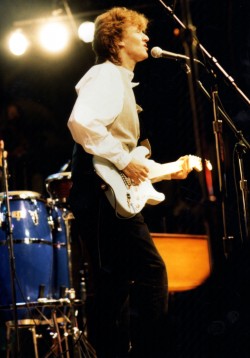 "Back in the High Life": Observer, June 22, 1986
The title of Steve Winwood's new LP, Back in the High Life, reflects a dramatic new twist in the career of this influential yet laid-back singer/songwriter. For the past 12 years Winwood has combined continued success with seclusion, emerging from his Gloucestershire retreat on only three occasions with completed albums. It was four years ago that he released Back To Night [sic], a record which, like its predecessor Arc of a Diver, he produced, wrote and played entirely by himself. Now, at the age of 37 [sic], Winwood has decided to return for another spell in the limelight.
For Back in the High Life, Winwood headed for New York with a $200,000 budget, teaming up with co-producer Russ Titelman and simply ringing around to enlist some top notch and wildly various American musicians. Chaka Khan sings on the single "Higher Love" (a video awaits its expected arrival in the top twenty); others include Nile Rodgers, Jocelyn Brown, James Taylor and Joe Walsh.
The album is a highly confident and celebratory affair, a collection of eight instantly-accessible tracks which deserves to drag Winwood out of any lingering cult cul-de-sac. Like fellow middle-ager Peter Gabriel, Winwood has bounced back with a modern sound oozing with musicianship and subtlety. Much of the album sounds as the Spencer Davis Group might have sounded in the Eighties, with a tough R&B club feel to it. Only "High Life" stands out as uniquely English, with its folk tinge and mandolin backing, like vintage Traffic.
"I went to New York simply to get the juices flowing again," says a fresh-looking Winwood. "I was in danger of becoming arty in isolation and really missed playing with other musicians. I was spending all my time reading computer manuals and tapping on keyboards rather than getting out and entertaining, which is my job. New York is extraordinary, not only for the vitality and excellence of its musicians, but because there is more playing going on. I now find myself playing in piano bars and in other people's concerts."
After 15 years of living in the country with his wellies, beagle puppies and clay pigeons, Winwood has now decided to move to New York, even planning to transport his 24-track home studio, and the new album reflects what is happening in his life.
While the songs on the recent solo albums veered from classic Winwood esotericism to dangerously MOR, the material has always been saved by his voice. High and youthful, it has dominated all the groups that Winwood has been involved with - Spencer Davis, Traffic, Blind Faith - and has inspired numberous comparisons with the heroes of early black American music.
"Ray Charles had a great influence on my voice," he says. "I saw him last year and was amazed to witness how a body can age while a voice remains intact. But in my teens I was emulating several other singers, the likes of Junior Walker, Sam & Dave and Garnet Mimms."
Winwood was just 16 and playing in the Spencer Davis Group when the boss of Island Records, Chris Blackwell, discovered them. They started out with a cover version of John Lee Hooker's "Dimples", and enjoyed a short string of hits, including the best remembered "Gimme Some Lovin'."
"It was fun but limited," recalls Winwood. "Traffic was a much more adventurous proposition. We deliberately tried to melt together bits of R&B, folk and jazz, an approach that comes naturally to me now. Traffic, especially as a trio (with Jim Capaldi and Chris Wood), was a fantastic band. I'm only now discovering the influence we made on other people. I keep meeting famous musicians who know Traffic songs backwards and expect me to be able to play them as well."
Winwood is dusting off a selection of old Traffic songs to include in his forthcoming world tour, a year-long venture - five months in America, then Europe, Japan and Australia. All he wants now is a band.
-- Anthony Denselow