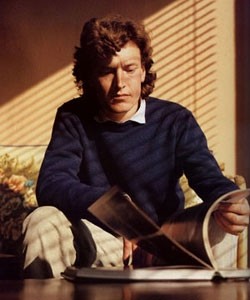 "Steve Winwood's Strange Studio Saga": Circus, April 30, 1981
"Steve Winwood's Strange Studio Saga
Circus, April 30, 1981
By Richard Hogan
Next to a splintered fence in the Gloucester Farm country, two men stand working. One, a local named Gordon Jackson, is commonly seen tending sheep nearby. The other, despite his short-cropped hair and casual tweeds, looks less like a gentleman farmer than an artist of some kind.
Something about his birdlike features and angular build would ring a bell in the mind of any Traffic fan. Yet this farmer has taken a wide detour from the intensity of those winter evenings in the early 70s when Traffic, the band he fronted, held sway over American Stadiums with its hypnotic rock & roll. Why is Steve Winwood, the maker of such hits as "Freedom Rider", "Dear Mr Fantasy", and "Gimme Some Lovin'", mending a fence? Hasn't it been three and a half years since the last Winwood album? Doesn't he have songs to get on with?
"I ask for that, don't I?" says Winwood in New York on a January afternoon two months later. "I just don't do as many albums as I should. My neighbor, John Entwhistle, spoke to me recently. He spends most of his time in London and LA. So he said, 'What the hell are you doing out there?' He just doesn't understand how peaceful the farm is for me."
It's not as if Winwood, 32, hasn't been busy with matters beyond the realm of fence repair work. Since the release of Steve Winwood (Island) in May of '77, the star has quietly run a livery stable, gotten married, played keyboards for George Harrison and Marianne Faithfull, built a recording studio on his property, and become a producer and engineer in his own right.
Now his second "solo album", Arc of a Diver, is out. It's really the first to feature Steve alone, and Winwood admits he's in the strange position of having to re-create the visibility he lost after Traffic broke up in 1974.
"I'm sure I do have that complic .... that challenge to face," says Winwood. "I really have to carve a new audience out, and I'm starting from scratch. I can't just relapse into my past achievements. Nothing comes free, making music and making records -- in the end, you have to be good. And the ultimate test of how good you are is in the sales. I have that test still to come."
Steve Winwood's method of preparing for his test -- one that he's passing with a score in the international Top 15 -- forms one of the most offbeat stories in the recent history of rock. While Winwood's peers (Eric Clapton, George Harrison) would have surrounded themselves with qualified musicians in order to stay in the black, Winwood decided to make his new album all by himself. To do so, he built his own recording facility, because studio time clocked against a one-man band carries a prohibitive price tag. And to buy the time to do that, Steve had to shut down the livery he'd been operating with Jackson, his only farm hand. Winwood turned his pastoral lifestyle upside down for the sake of an album that will never have a tour to match.
"I intended to make Arc of a Diver so it would sound like a band was playing," explains Steve. "When I was a kid, I always used to mess around with tape machines; I'd overdub so I'd sound like a band. I would have done this record at some point anyway. It was just that I finally had the studio that enabled me to do it."
After Steve wed his American bride, Nicole, in 1978, he liberated as much money as he could from his savings and bought the 16-track soundboard (with which Free's albums and "All Right Now" has been recorded) from Basing Street Studios in London. "The sixteen is a rather antique board," says Winwood, "but I find it adequate. My instruments, flangers and digital echo devices are more up-to-date -- I could afford only one thing new or the other."
Winwood took his freshly-purchased bag of studio tricks and put it in an out-building near his farmhouse. "The commercial studios keep updating their equipment for the superstars," he gloats. "They forget that the record will be heard on the average hi-fi in the average room. Meanwhile, all this perfectly good recording gear comes back on the market." Now that Arc of a Diver has out-stripped Fleetwood Mac on the charts of the world, it's a safe bet to say that Winwood is the kind of studio economist Warner Bros records, which distributes the album, could use more of.
The only real problem Steve ran into making Arc of a Diver was the writing of lyrics that could equal his deliberate, Gothic melodies. His friend George Fleming wrote "Dust" and "Second Hand Woman", while the zany but gifted Viv Stanshall penned words for the title song. That still left four songs without lyrics.
"Steve already had his own lyrics recorded," says Lionel Conway of Island Music, "but they were too abstract. We wanted love stories, commercial lyrics. I patched him up with a writer I knew here in LA, Will Jennings, to make sure their personalities matched before they wrote together. The two are similar -- Steve, you know, is very introverted, very shy, very charming."
In ten work days, the four numbers were ready, and Steve sang his vocals again. One of the Winwood/Jennings songs, "While You See a Chance", has become a hit single.
But the songwriting partnership doesn't end there. "I'm starting to work on the next album already," Winwood confides. "I'm going to Malibu next week and taking a house for a month." There, Winwood and Jennings have been writing the songs for Steve's next album. "After that I'm going to try to put a band together in England. I should have another album by the fall."
Island and Warner are already gung-ho on the prospects of a fall LP. "We're trying to interest Steve in a Doobie Brothers-production style for that record," hints Conway. Island seems to be way ahead of Winwood on that one -- Steve isn't sure just what kind of band he'll form. He does know that he can't count on old Traffic-mate, Jim Capaldi: Jim is a tax exile living in Brazil. Does Steve have anyone else in mind for the LP or the tour?
"No", snaps the enigmatic Winwood softly, "I haven't a clue."
-- Richard Hogan